Login or create an account
Close
Returning Customer
I am a returning customer
Login or create an account
Close
Your Account Has Been Created!
Thank you for registering with Smart-Tech (Germany)!
You will be notified by e-mail once your account has been activated by the store owner.
If you have ANY questions about the operation of this online shop, please contact the store owner.
Account Logout
You have been logged off your account. It is now safe to leave the computer.
Your shopping cart has been saved, the items inside it will be restored whenever you log back into your account.
8 Reasons of buying a Smart-Tech TV
09/07/2020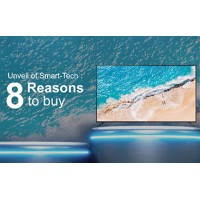 If you are looking for a new TV at home, this article may probably bring you an idea. Since Smart-Tech provides opportunity for you to get a quality TV with an affordable price. Want to know more about the promising brand? Let's walk through the TV brand together.
Smart-Tech has been accumulating the expertise in designing and manufacturing smart digital products, including TVs and digital signage for more than 20 years. Having its own manufacturing facilities and sales offices around the globe, the group is now selling to over 60 countries worldwide. Through the years Smart-Tech has gained the trust from Strategic Partners, official partnerships with popular and significant industry leaders have been established, including Google, Netflix, Amazon, and many more.
Besides, Smart-Tech aims to connect people and technology by being a part of the families as well as making you access to technology easily. The moderate price, practical functions and user-friendly design are the basic standard it attains when designing the products. Throughout the enormous features, here are 8 of them you never want to miss.

4K Premium
With 3840*2160 pixels equate to 4 times the resolution of the FHD TV, you can enjoy the pictures, videos, shows with detail and sharpness visual on Smart-Tech 4K UHD TV. Not only can a 4K TV takes you to a new level of clarity, but also more realistic colors are able to display benefit from the improving TV technology and hence bring you the finest details and true color of the picture. Wanna know more about the different between 4K UHD, 2K FHD & HD? Click here to know more <What is 1080p, 2K, UHD, 4K, and 8K resolution?>
The first 4K TV came out to the market at 2012, however, due to the immature technology as well as not enough support content, HD TV & Full HD are still the mainstream to the market. But recent years, 4K TV has become the TV that people are considering to buy when looking for a new TV, and accounting for more than 50% of all TVs shipped worldwide nowadays. Moreover, as an expert in TV manufacturing, Smart-Tech have over 100 R&D engineers for software and hardware development, who strive for offering the best smart products to consumers with world class quality standards so the 4K premium UHD TV is definitely one of the achievements upon their efforts.
DLED Technology
Smart-Tech accumulated years of experience in TV manufacturing and has been focused on producing DLED TV for years. DLED means Direct-lit light-emitting diode, the DLED technology allows effective multi-zone local dimming in the TV. And the TVs will be able to drop the back light of a small area of the screen to create deep blacks as well as to show better and higher color contrast. Apart from the superior black level performances provided, the LED lighting generally help to produce a wider color spectrum than other TV technologies. This is especially significant with premium direct LED TVs, which use RGB dimming technology.
On the other hand, another LED technology, edge-lit LED, cannot produce effective local dimming since the LEDs are placed around the edge and the light is carried to the center of the screen by a clear plastic assembly behind the LCD screen, which often results in less even illumination.
Dolby Audio
In addition to the visual quality, what else you care about when enjoying your shows or movies? Yes, it's the audio quality. Another feature you can enjoy from a Smart-Tech TV is the immersive sound quality since the DOLBY AUDIO™ is adopted.
The entertainment you love, no matter it is a movie, TV show, sports game or concert, is even better when you play it with Dolby Audio. Its crystal clear, easy-to-hear dialogue, great detail, and realistic surrounding sound effects all come together to dial up the impact of your favorite scenes and events. Whether you listen on-the-go, or at home through TV speakers, a soundbar, or a full home theater system, Dolby Audio works in the background, intelligently pairing each piece of content to your entertainment setup for higher sound quality.
HDR Technology
HDR is a high-dynamic-range imaging technique aims to reproduce a greater dynamic range of luminosity. With HDR tech, detail lost in the darkest and brightest area of a picture are preserved, giving a more dynamic look to your picture and a realistic picture is created which is closer to that seen by your eyes.
Besides, there are two standards of HDR among the industry currently, HDR 10 and the HDR 10+. Smart-Tech TVs adopted the HDR 10 technology, which was first announced by Consumer Technology Association and works by providing static metadata to the display so as to make the picture looks real.
Find out more about <HDR & HDR10>
Smart TV Options
Smart TV are becoming very popular and sough nowadays since the fully integrated on-demand streaming service, broad smart home control and the built-in smart assistant. As an official partner with Google and Netflix and having over 100 engineers working on R&D development, Smart-Tech provides you options on your own smart TV, including two mostly used TV operating system, Android TV OS & Linux (with Netflix embedded) OS.
Android TV
Android TV is a smart TV platform from Google, built around the Android operating system. You can stream content on your TV via apps, both free and paid, using your internet connection. With access to more than 500,000 TV shows and movies, Android TV offers you shows, movies and apps all in one place. You can also customize the Home screen, cast photos, videos and music from your smartphone and use your voice to ask Google to search for the latest blockbuster, stream shows, or open multiplayer games. Since there are too much functions are available on Android TV, we will take another time to talk about it. If you want to discover more on Android TV, stay close to us.
6 recommended Apps on Android TV

Linux OS TV (with Netflix embedded)
Another popular smart TV system in Smart-Tech TV is Linux (with Netflix embedded) TV. Undoubtedly, Linux is one of the most famous and robust open-sourced operating systems. Many well-known OSs are based on the Linux kernel, like Android, Amazon's Fire OS as well as Samsung's Tizen OS. Smart-Tech also developed its own Linux OS based on Linux kernel and pre-installed with some popular apps inside, including but not limited to Netflix, Netrange and YouTube. With abundance of Apps embedded, you can enjoy countless entertainment without further downloading as well as under a smooth and easy-to-use operating system. If you are a Netflix lover, imagine you can enjoy all the TV shows and movies you love with just one click as well as watching all of it on the big screen with 4K UHD resolution. You don't want to miss this TV, do you?
Design & Borderless Frame
What else are you expecting from a modern TV? Surely design is another element that people care about apart from its visual quality and functions. Smart-Tech also cares a lot the TV design and provides various options of stylish and elegant designed TVs to you, for example, N series designed with black highlights front frame and brushed finishing at the bottom, F series designed with black highlights borderless front frame and matte bottom, S and E series designed with metal borderless front frame which not only shows the luster of the metal but also the frameless and immersive visual.
Moreover, the bezel-less screen as well as the slim design are, undoubtedly, other features of Smart-Tech TV. With the efforts of our engineers, there is only 1mm width between the frame and the TV screen which enables you to have a seamless viewing experience. Moreover, the thickness part of the TV is about 3.4mm, which goes far beyond the industry standard 7-12mm. With the ultra slim & stunning design, not only can you save lots of space at home, but also enhance your living space with style.

Different Size & Resolution Options
One of the questions that people may ask when buying a TV is that how to choose the TV size or what size TV should you buy. And there are a bunch of contents and guidelines online you can take reference and recommendation from.
<TV sizes and viewing distance>
And Smart-Tech also offers different size TV so as to meet different needs from our customers, ranged from 24 inches to 75 inches, you can go to the to check out our products. (The availability of size and model will be different according to your location)
Apart from different sizes, we also provide different resolution options on our TVs and hence best fit with what you need. No matter you are looking for a 1366 * 768 pixels HD TV, 1920 * 1080 pixels FHD TV or a 3840 * 2160 pixels 4K UHD TV, you can always enjoy with dynamic color and enhanced picture details since the DLED technology as well as HDR 10 technology adopted.
Price
Smart-Tech aims to connect people and technology by being a part of the families and also endeavors to share the moments with you. TV is a kind of necessities for a family and it usually helps to create precious moments. No matter you are watching the exciting football match or enjoying a touching movie with your loved ones, Smart-Tech TV is always there to share those Moments with You. The value also reflects on the price setting of Smart-Tech' products.
Undoubtedly, price is a vital element taken into account when consider purchasing a TV. Customer always looks for the best product to purchase with a lowest price. Shares the same value with customers, Smart-Tech always looks for offering products with an accessible price and great price-performance ratio. In other words, you can always buy a quality premium product with affordable price from Smart-Tech. Check our TV PRODUCT now!